Interview with one of our Customer Service Managers – Giuseppe Colletti
It is always great to see how young people develop together with us as PVS RS and how we can support our employees in their professional careers.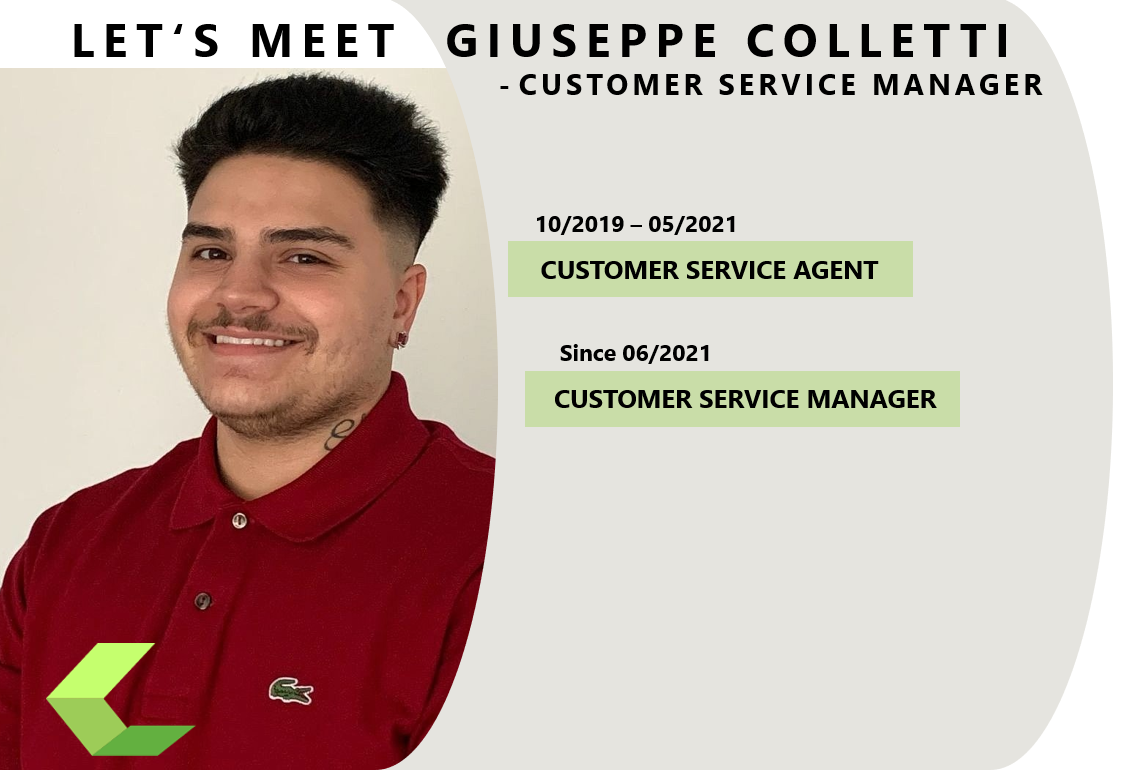 In this context, we are pleased to introduce Giuseppe Colletti. Giuseppe already started working with us in October 2019 as a Customer Service Agent and 1 1/2 years later he took the position as Customer Service Manager.
We are looking forward to further cooperation and hope that we can further support Giuseppe on his professional path!
We asked him a few questions about his daily work routine and his tasks at PVS RS. The interview gives an insight into how a Customer Service Manager works in our company.
HOW DID YOU COME TO PVS RS?
I came to PVS by actively applying to work there. After my apprenticeship in retail, I was looking for something to do with office work, as I have always been interested in such an area and have been fascinated by computers from a very young age. So far, I have always been able to develop my skills very well in the company, especially in the area of customer service, it was possible to learn the required skills quickly and use them effectively. You are always very warmly welcomed.
WHAT ARE YOUR DAILY TASKS AND HOW DOES YOUR WORKING DAY LOOK LIKE?
My daily work routine is to answer emails and phone calls as well as to inform my team leader about activities and results in a timely manner. This also includes actively supporting the team leader with tasks such as planning training courses and events, assisting with projects, preparing meetings and training new employees. In addition, it is essential to exchange information within the team and to stay in touch for the best possible communication.
Furthermore, it is part of the tasks of my department to keep the clients up to date, to constantly improve the service quality, to carry out and enter further trainings as well as to pass on the feedback from customers to the client for an absolute satisfaction. Evaluations, statistics and selections are also made for the benefit of clients and the management of customer service.
WHAT DO YOU ENJOY MOST ABOUT WORKING AT PVS RS?
What I enjoy most about working at PVS RS is that the tasks are very diverse, you constantly learn new things and can participate in workshops. You always have new people to meet in the company, too, so it's easy to exchange ideas.
WHAT DO YOU VALUE ABOUT PVS RS AS AN EMPLOYER?
What I appreciate most about PVS RS as an employer is that you are respected as a person and treated correctly. It's also like having a second little family at PVS RS. There are also several tournaments and events where you can exchange ideas with colleagues, eat and play at the same time. As was the case recently with our table soccer competition. There is fresh fruit provided every day. There is a small room where drinks are available and you can freely get what you want, and there is even a small kitchen.
The flexible working hours are also very special. If you need a day off at short notice, for example to attend an appointment, you can easily approach the team leader and coordinate with each other. Outside of work, you can also arrange things among colleagues and meet each other and possibly even build a friendship outside of work.
WHAT WAS THE FUNNIEST MOMENT THAT HAS HAPPENED TO YOU AT PVS SO FAR?
The funniest moment that has happened to me so far at PVS RS was when we took wigs from our mannequins and wore them ourselves. We imitated pop stars and different actors and had a lot of fun and laughter. Because with a smile on your face, the work is much more fun.